PocketPC Lightsaber Unleashed
The Lightsaber for Windows Mobile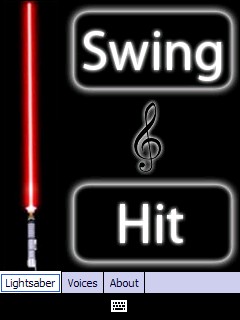 For the rest of us, who neither have a fancy iPhone nor an integrated accelerometer, there is finally a way to lightsaber-duell your arch enemies with this new hobby project of mine, which now available for the PocketPC platform. Inspired by the iPhone app "Lightsaber Unleashed" which is availlable on iTunes, this version doesn't require an accelerometer, but instead lets you use your screen or your input keys.
Version 0.1:
PocketPC Lightsaber Unleashed (CAB-File) [QVGA-Version]
Requirements:
Windows Mobile 5.x and up, as well as the Microsoft .NET Compact Framework 3.5
Instructions:
After installing, you find the app in the game folder of your start menu. To turn on the saber, just touch it and it will activate. Now you can use the hardware cursor buttons on your pda/phone or the the swing- and hit buttons on your screen. You can even turn on some background music. As a bonus, the "enter" key on your device will make some laser sounds.
If you have any comments or thoughts, feel free to share them with me.
If you like this app and want to support its development, you can make a donation:
---